Linking up again with
Lin
and
Amber
for Ten on Tuesday. Join in!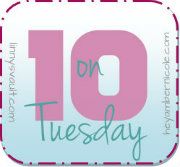 One
How I Met Your Mother was a repeat last night. I was not happy.
Two
Catfish was a new episode. Honestly, I think it's awesome that they feature gay couples too. And Nev is just uber cute.
Three
Yesterday was my only day off of the week and I would say that I was productive. You'll get to see my day off hour by hour tomorrow!
Four
I have a 2500 creative non-fiction piece due tomorrow which I haven't even started. Procrastination rules my life.
Five
For my media class, I have to write and film a public service announcement. My topis is pet adoption. You beeter believe I will be staying away from Sarah Mclaughlin music... I wanna make it funny but sweet. Any suggestions? What would YOU want to see in a pet adoption ad?
Six
My outline for my novel is being workshopped in class tomorrow... I think I'm going to pee myself.
Seven
It's official... I'm a Hoosier. I got my state I.D last week.
Eight
I swear I have been the most anti-social person ever lately. The only person I have wanted anything to do with lately is my roommate and that's only because I live with her. No clue what my deal is.
Nine
I think being single makes people try harder. I swear if I was in a relationship right now, I'd be sitting here in sweats and no make up. But nope, I woke up this morning and tried. That should be our motto....
single people, we try!
Ten
This song has been stuck in my head all week...
Welp, there's my 10. Have a good day everyone and tune in tomorrow for a day in the life of me!
XO